Load Shedding Loaf / Braai Loaf
LOAD SHEDDING LOAF
Thyme-infused Braai Loaf
A cast-iron pot, a supply of hot coals and enough time on your hands to tend the dough while it rises and then wait for it to cook, surrounded by coals; that's an afternoon worth planning for, and a way to conjure up a loaf of bread when the power is off.
Thyme subtly enhances anything it is used with yet is always recognisably present. It's best used as the only herb in the mix, to benefit the most from its particular flavour and aroma. You can use plenty, or only a little; either way, your bread will turn out enticing and moreish.
Ingredients
1 kg white bread wheat flour
10 g instant yeast
4 scant tsp sugar
1 scant tsp salt
2 Tbsp picked fresh thyme leaves
2 cups lukewarm water, plus a little more if needed
2 Tbsp olive oil
Olive oil for the pot
Method
Sift the flour into a large mixing bowl. Add the yeast and sugar and stir well with a wooden spoon. Only stir in the salt after this so that it does not neutralise the yeast. Stir in the thyme leaves.
Add lukewarm water a little at a time, while kneading the dough, until it is all combined. Now add the 2 Tbsp olive oil and continue kneading until it is a nice plump ball of dough and no longer sticky. Knead again for a few minutes, turning and push-pulling with your hands/fists.
Leave the ball of dough in the bowl, cover with a slightly damp tea towel, and put it in a warm spot outside for 20 minutes, or inside if the weather is not playing ball. Another option is to put it in a slightly pre-warmed oven, but turned off.
Check that your braai coals are ready. Oil the inside of your heavy-bottomed pot well. Carefully ease the dough into it; you may need to use a silicone spatula to scrape the edges downwards. Put the lid on the braai pot. Place in the braai and immediately place hot coals all around the base, and a few more on top. Keep replenishing the coals at the base and on the lid for a full hour. The pot bread should be ready in an hour. Remove the lid; it should turn out perfectly.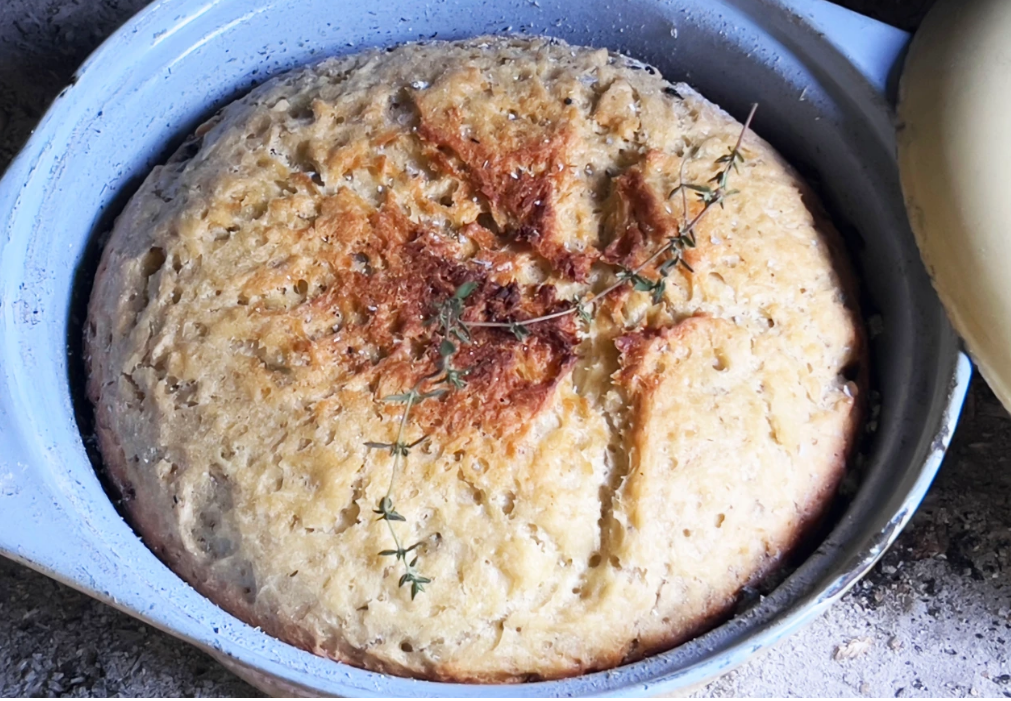 Referencing a source: DM/TGIFood