COLLECTION / DELIVERY
COLLECTION ADDRESS (PLEASE NOTE ALL COLLECTION BY APPOINTMENT)
8 Panther Street, Kensington, South Johannesburg
UBER DELIVERY FOR ASHPANS & GRIDS
Download UBER APP
Requesting package delivery
On your dashboard, choose the Delivery option before you make a request. The following details are required:
Pickup (as above)  and drop off address (your address)
Recipient info
Select "Request"
The weight must be under 15kg and will be wrapped in bubble wrap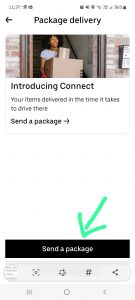 THE COURIER GUY BEDFORDVIEW 
Braais - Built in Braais, Bomas and Drum Braai deliveries.
We use the Courier Guy in Bedfordview. If you want your braai delivered send us your address so we can get you a quote.
Alternatively use your own delivery company once you confirm sizes and weight with us.
BULK DELIVERIES
Large company orders.
We use a truck for orders of three braais or more. Cost is charged by the driver depending on the distance and amount of braais.
For a quote send a delivery address. Payment to be made in advance once a proforma invoice has been sent.