What you need:
130g jar of Basil Pesto
Ciabatta – BraaiBroodjie
2 cups mozzarella, grated
Punnet cherry tomatoes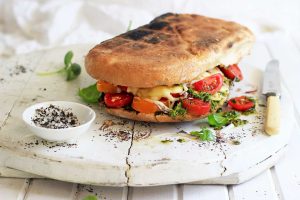 Small red onion, very finely sliced
Coarse sea salt
Black pepper
Olive oil
What to do:
Start by prepping the tomatoes. Simply slice the tomatoes the way you want them and place them in a colander. Scatter over a very generous teaspoon of sea salt and set the tomatoes aside for half an hour. The salt will draw water, intensifying the wonderful tomato taste in the process. Give the colander a good shake towards the end and the tomatoes are ready.
Next cut the ciabatta in half lengthways. If you don't like your toasted sarmies too doughy, hollow it out some. Now spread both halves liberally with pesto. Top the bottom half with the tomatoes and onions and scatter over the cheese. Grind over black pepper and salt to taste and cover with the other half of the loaf. Brush both sides of the bread lightly with some olive oil.
Place the ciabatta in a braai grid and clamp it closed. Braai over medium-low coals until the bread is crisp and brown on the outside and the cheese melting oozily on the inside.
Cut in 6 indecently fat slices, drizzle over a last bit of olive oil, scatter over some fresh basil leaves for the pretty and serve it right away while still warm.