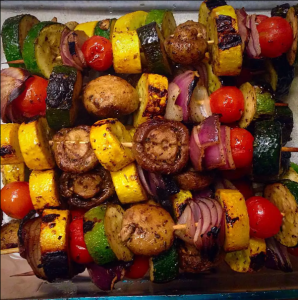 Ingredients
1 fresh pineapple, cut into chunks
2 medium zucchinis, cut into 1-inch slices
2 medium yellow squash, cut into 1-inch slices
½ pound whole fresh mushrooms
1 medium red onion, cut into chunks
12 cherry tomatoes
1 medium red bell pepper, cut into chunks
8 bamboo skewers, soaked in water for 20 minutes
⅓ cup olive oil
1 ½ teaspoons dried basil
¾ teaspoon dried oregano
½ teaspoon salt
⅛ teaspoon ground black pepper
Directions
Thread pineapple chunks, zucchini slices, yellow squash slices, mushrooms, onion chunks, tomatoes, and bell pepper chunks onto skewers.
Whisk olive oil, basil, oregano, salt, and black pepper in a bowl; brush some of the mixture over vegetables.
Place skewers on braai until vegetables are tender, turning and basting vegetables with remaining olive oil mixture occasionally.